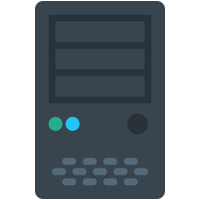 Custom PC Builds
Needing a workstation built for your business? A powerful custom build for media rendering? A gaming rig to conquer the battlefield? Or maybe you need something to run Crysis? I can help.
I have experience building custom workstations for law enforcement and government agencies across the globe with multiple custom configurations. I can also build out storage towers for clients who need storage solutions like Photographers/Videographers/Media Artists/etc
Some of my builds and setups
The Building Process is simple, I just have a few questions...
• What do you need this workstation for?
• What work will you be doing on it? (this information is needed for the buildout)
• What is your budget?
Computer build times depend on component availability. I can have a system spec'd out and ready for approval from you. Once approved, the purchasing of the components are done as soon as possible.
I will notify you when the parts are received in and begin the PC build. Once completed, I will bring it over to you and can assist in setting it up if needed.
Pricing Options
Total cost of the build will be due prior to component ordering. I will purchase all components that we have discussed and signed off on after receiving payment.
Starter PC Build
$600 - $1k
1 256GB SSD
16GB RAM
Choice of CPU
600W PSU
Mid to Lower end GPU
Budget friendly PC case
OS installed and ready to go!
Pro PC Build
$1k - $6k
M.2 NVMe SSD
Extra Storage Drives
Choice of CPU
1000W PSU
High end GPU
High Quality Case
OS installed and ready to go!
Complete PC Setup!
$6,000 +-
Computer build
Complete cable management
Multi monitor setup on mounts
LED backlighting behind desk/ monitors
Payment gateway setup
* 15% of the total build cost will be added for labor.
Contact me for a quote now!